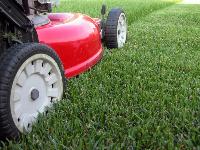 Spring/Fall Cleanup
This involves removing all debris from lawn, gardens and hardscape areas. A proper spring clean-up is vital for the overall health of your property's development. All debris will be removed from site and disposed of in an eco-friendly fashion.


Lawn Maintenance
Proper lawn maintenance is the most important component to ensure a healthy lawn. The cut height of your lawn will help it sustain itself through brutal New England weather. A Hillside Lawn Care visit will include mowing the lawn, vertical trimming all lawn areas, checking the health of plants/shrubbery, weeding mulch beds and blowing off all hardscaped areas. We remover any litter and debris. We also provide aerating, slice seeding and composting to ensure your lawn's appearance.

Mulch
We provide mulch for all planting area in a variety of colors. Mulching helps retain vital plant moisture, minimizes weed growth and is visually appealing.

Personal Spaces
Creating personal space for all members of the family helps your property flourish. Whether it is a play area for toddlers, pre-teen or teenagers to utilize free time, adults to entertain or unwind or an area for the family pet, we can design areas to meet all your specific needs.

Plantings
Plantings can enhance the value and appearance of your property. Whether it is a properly pruned existing shrub bed or a newly designed/installed shrub bed your home's appearance can be significantly enhanced. We also design/install perennial gardens that can dramatically alter your property's appearance without breaking the bank. We will design your garden with a variety of colors and textures that will flourish in either sun or shade areas. We also plant all types of annual flowers to provide season long color.


We look forward to hearing from you at 617-327-1700 or email us at john@hillsidelawncare.info.